News
Everything You Need To Know: Hair Serum Vs. Hair Oil
by Nikita P on Jan 24, 2023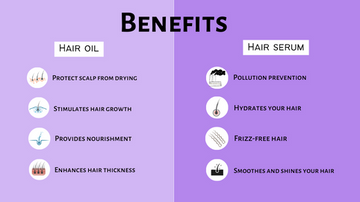 Is it a good idea to switch from your everyday hair oil to a hair serum? Take a second look! Seeing no differences between the two might confuse you or make you think of them as the same. It's important to understand that hair serums and hair oils are completely different.
We will explain in detail in this article whether hair serum or hair oil is best for you.
Serums are primarily used to protect the hair. Oils usually have an oil-based formula, whereas liquids usually have a liquid formula.
Serum can be used to style your hair, add more gloss and shine, smooth your hair after Now-drying, etc.
Hair oils, on the other hand, are used mostly for nourishing and conditioning your hair from within. You can also grow your hair with regular use, and hair damage can be reversed with the regular use of hair oil. So, now we understand that hair oil and hair serum are not the same.
Benefits of hair serum
Hair serums are primarily used for styling purposes, but they also improve the manageability of your hair. A serum coats the surface of your hair, and unlike hair oils, it does not penetrate the roots of your hair. Whenever your hair is in the worst condition, but you're in a hurry to go outside, hair serums are the best solution.
Apply a few drops of serum to your hair, comb it, and you're ready to go out with some extra sparkle. It will instantly transform your whole look.
Benefits of hair oil
Several reasons can be attributed to the benefits of applying oil to your hair. From the roots to the tips, hair oil can provide your hair with the essential nutrients it needs to grow. Regular oiling also strengthens your hair, and it can also significantly reduce frizz.
In traditional Indian households, homemade hair oils were preferred to obtain the purest oils made from natural ingredients. Since people's lives have become busier, they no longer find the time to prepare these oils. As a result, they turn to oil products in the market, which is usually filled with chemicals that make the oil last longer than homemade oil.
It is important to understand, however, that organic hair oil offers the most benefits.
Many chemical-laden hair products contain ingredients such as parabens and sulfates that can damage your hair and cause premature greying.
Verdict
The best way to choose between a hair serum and hair oil is to buy both since each serves a different purpose. Choose the product that best suits your hair needs.
Hair serum is ideal if you have normal healthy hair and just want to style it in various ways. However, if your hair problems are deeper and involve hair damage, hair loss, etc.
You should then choose a hair oil that will meet your hair damage needs.