News
How to use Redensyl, what are the benefits and what are the side effects? 
by Nikita P on Jan 24, 2023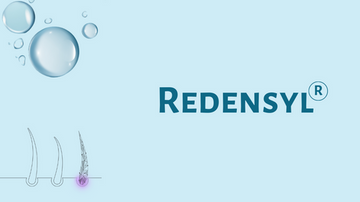 Redensyl: Uses, Benefits & Side Effects
Redensyl for hair is a newly discovered plant-based compound that contains the molecule 'dihydroquercetin-glucoside or DHQG', which aids in hair regrowth. It is known to target the stem cells of the hair follicles and encourage the division of cells.
What is Redensyl?
Redensyl for hair growth is often considered the best alternative to hair transplants due to its all-natural and non-hormonal hair regrowth qualities. Furthermore, redensyl capixyl and procapil are highly favored because they are 100% irritation-free and non-sensitizing.
The compounds present in Redensyl are:
Owing to its natural composition, it tends to have no side effects. Our hair growth cycle consists of 3 stages, i.e., anagen - the phase of hair growth, catagen - the phase of hair transition and telogen - the phase of hair loss. Redensyl works on your hair in a 4-step plan; they are:
Ensures faster hair growth - aims at reactivating hair cell division by stimulating the initial hair growth phase, leading to hair growth.
Reduces hair loss - research states that it effectively reduces hair fall by 17% in just 3 months of usage. Additionally, it reduces the effects of the telogen phase by over 16%. Since redensyl ensures thicker hair growth and enhanced scalp nourishment, your hair doesn't snap as quickly as it did earlier.
Makes hair stronger and thicker - it provides nutrients to the scalp and hair follicles and increases the blood flow in the scalp.
It increases hair density - Redensyl is known to prevent hair thinning by increasing hair density. It has shown an 8.9% increase in hair growth during the anagen phase.
Fast Facts:-
TYPE OF INGREDIENT: 'dihydroquercetin-glucoside or DHQG'
WHO SHOULD USE IT: All hair types
HOW OFTEN CAN YOU USE IT?: It is best to use Redensyl-based serum after a shower. Take a few drops of the serum and massage it onto your scalp for 5 minutes. For best results, apply it before going to bed and leave it on overnight
WORKS WELL WITH: Yes, Redensyl does work. A clinical assessment had outstanding results for Redensyl in 3 months with a significant reduction in hair fall and an increase in hair regrowth.
DOESN'T WORK WITH: N/A, it works well with everything.
MAIN BENEFITS: Makes hair stronger and thicker.
Which is better, Redensyl or Minoxidil?
So, is Redensyl better than Minoxidil? Wondering who won the minoxidil Vs redensyl battle? Read below.
In comparison with Minoxidil, Redensyl is a comparative innovation that has gained traction with its level of performance since its introduction as a hair growth-enhancing product.
As a treatment for the first phases of hair loss, Redensyl is effective for both men and women, while Minoxidil is the undisputed treatment for hair loss due to its high efficacy rates.
Redensyl is a greener solution that produces smarter, more sustainable products by utilizing less energy and fewer harmful chemicals. Redensyl appears superior in the Redensyl vs Minoxidil battle, but Minoxidil's results are exceptional.
The side effects of Redensyl and Minoxidil may be considered negligible for Redensyl, while Minoxidil solution may cause nausea, vomiting, and several changes in hair patterns.
It appears that Redensyl has performed reasonably well in the Redensyl vs Minoxidil comparison, but it lacks the prestige of its effective competitor Minoxidil solution, which has flooded the market for decades as a hair growth stimulator.
As of now, Redensyl has a broad scope for future research and could become a potential drug in the hair care industry.
A Routine for Using Redensyl Serum:-
Confused about where to add 3% Redensyl Serum to your HairCare Routine? Use It after hair wash and hair condition Am/Pm and use1-2 minutes leave it overnight. We recommend using it twice a day for the best results.
Side Effects:-
It has been noted that Redensyl does not cause any side effects, it is only beneficial for hair growth and has no harmful effects.
Despite its plant-based source and biotech processing, it is highly effective.
Redensyl has no side effects. It is most effective because:
It is a natural ingredient
It does not contain hormones
It encourages hair growth at a cellular level
The results are noticeable
To Conclude
There are a lot of options to buy 84 Days Intense Hair Growth Serum but what makes Worthy Essentials so effective is the formulation which has 3% Redensyl, 2% Procapil, and 2% Anagain.
A year from now, you may wish that you'd started today.
84 days intense hair growth serum is made up of award-winning ingredients, Redensyl, Procapil, and Anagain which have been proven to work on human stem cells
Start today. Get up to 9400+ healthy hairs a month.
84 Days Intense Hair Growth Serum with powerful dH5+ formulation to promote your hair growth.